LIBRETTO LIRICALE ENGELBAU COLLEGE
IN COLLABORATION WITH THE LICEO LAGUARDIA LUNGOMARE

"THE SONG MAKES IT REAL"
BY LYNX LAUSCHENS
Some of the content has been temporarily removed from public view,
The reason for this, is that it may be regarded as scandalous in certain circles, and needs to be placed in its proper context.
This libretto is privately dedicated from me, Milk Dud, to Lyric Marie Benson whose memorial can be found at the Leo House on 332 W. 23rd street in NYC. Lyric's story is also scandalous.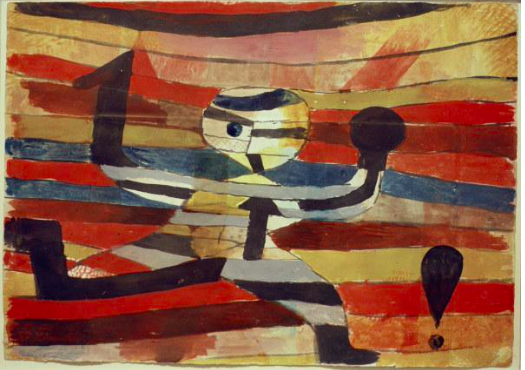 the painting is "runner" by Paul Klee.
PAGE 1. A LITTLE GOOD NEWS BY ANNE MURRAY,
Mashup lyrics by Milk Dud for Lynx Lauschens Lyrics
MATTHEW 28:1-16--good news, fake news and how to suborn perjury 101.
THIS SONG DOES NOT CONTAIN OBSCENITY NOR SCANDALOUS MATERIAL, BUT WE WOULD HAVE TO ASK ANNE MURRY BEFORE PUTTING IT ON YOUTUBE.
Ran down to Sparta, I had my battle boots tied on
I said I had to tell them all about the fighting in Marathon
Some senator was squawking about their astronomy
They had a full moon you see
It's a sign of religious piety
There's a Delphic Sybil on top of a temple stand
One more bad prediction's one more than I can stand
Just once, how I'd like to hear the oracle say
Not much to prophesy today
Can't find nothing bad to say because
THE ODYSSEY
this world famous story takes place hundreds of years before the Marathon Battle
To learn more about St Augustine, take the BS theory course with Professor of analytical philosophy Harry Frankfurt of Princeton.
a cover with alternative lyrics of All About that Bass by Meghan Traynor
VERSE ONE
Yeah, it's pretty clear, I ain't no Jesus two,
but I been praying praying, the way I'm supposed to do.
Cause I got that dream dream Its joy that I chase
it's all right if you guzzle, it's all right to titrate it.
VERSE TWO
Some people think they're judges. Some people think they're cops.
but ain't nobody perfect, the only judge is God
If you want glory glory, just listen up
Put the ring into the fire, gotta make it to the top.
BRIDGE
.
Yeah my mamma she told me don't worry if you capsize,
she said that God gets a little more glory when you get it right.
You know I don't think we're living in heaven before the fall,
but the world needs some fixing, so listen when angel calls.
Because you know it's all about that grace, bout that grace, no devil.
We're bringing Bilbo back, go ahead and tell those morgul witches that,
pitch the ring into the fire, gotta make it to the top
Note: the author of these lyrics has discovered that a lot of Christian youth groups rewrote this song in 2014 but the author of these lyrics never saw any of that and then did it in 2019, which might be seen as evidence that the Holy spirit speaks to every heart and draws us all into community.
For this song, we would have to ask Shaggy. And maybe the Tolkien estate? To learn more about Melkor, take the Silmarillion class with Professor of ancient languages and literature JRR tolkien of Oxford U.
Melkor u my angel u my darlin angel,
I wrote you a piece will you play it for me baby ,
Melkor you're my angel, you're my darling angel,
sing me a song in a happy key, baby
you're criticizing my behavior, you're not my saviour
and I don't like it up above.
I will never surrender, and I don't need your sappy love.
BUSTED,
by Ray Charles, dedicated to Pier Paolo Pasolini
To learn more, read the notebooks of Italian communist Antonio Gramsci.
But understand, Gramsci was not a conventioanl communist and neither was Pasolini, who instead was not beloved by the orthodox PCI.
Pasolini prefaces his work by stating that he is not an atheist.
by way of explanation, Stracci (the name means, rags) is a poor actor in Rome who is very hungry.
while on the set of a passion play, and so hungry he is ill, he gives his own lunch to his starving family, then when he sees another actress's fancy dog steal his own meager portion, he begins to weep like a child.
to get money to buy food, he spontaneously sells the dog to a roving reporter and races past some runners to buy a whole ricotta cheese from a street vendor.
After gorging on the cheese, he is stuffed further by rich people on the set who mock him in stupidity.
He then dies of the shock to his system while he is on the cross playing the good thief.
He takes the ill gotten gains Straccis' so poor that he can't eat no more cuase he's busted
he got a job on the screen so he can buy pork and beans, cuz he's busted.
But then he pigs out and he gets really ill
he dies before he can pay all his overdue bills
and he didnt even have time to write up a will, cuz he's busted.
Stracci is a character from Pasolini's movie "La ricotta" a sardonic spoof on Hollywood style Passion Plays.
Pasolini chose orson welles to play himself, Welles whose name is a spoof on George Orwell (cite this).
CANDY ISN'T CASUAL
(Don't want to talk about it by Rod Stewart) I can tell by your lips
that you prolly been eatin' cherries forever
Sno' cap stars in the skies and you wanted to have some for dinner
'Cause we don't know how to talk about it
The stuff inside our hearts
That kind of candy isn't licorice baby
cuz if you crunch it then you listen
It's too hard, woo it's hard
If we stand here making jokes
would the laughter ease the suffering in our hearts
Let me dry your tears,
let us try to speak more clear
if your heart is tryin' to cry
you should prolly look your soul in the mirror
CHELSEA ROCK ME,
Bernie knows its cold up in ne
so he got himself a pair of custom made mittens,
he's gotta go to Joe's thing and then the post office NOOO
refrain: Rock me chelsea like a grana wheel,
like a cider made with artisanal peels, eeeeeeyyy chelsea rock me,
don't wanna walk to the ferry in the wind and the rain,
don't wanna catch the virus on the transit train, heeeyyyy chelsea rock me
I was headed west from the Union square GAP,
To alphabet City, avenue C, (is this geographically correct, bc dariuss supposedly isn't) I got to get a move on, cause look at the sun,
i hear bluscemi calling my name and he says the day is almost done
and you're at seventeenth street so just count to TWENTY THREEEEEEEE
FISHING IN THE DEEP
an Adele mashup, dedicated to St Peter
There is a fire, starting in my heart,
reaching a fever pitch, it's bringing me out the dark
Finally I have moved beyond my fear.
go head and crucfy me
see how much I care.
Everything that Jesus said will all come true.
don't underestimate the things that God Will do.
The fruits of God's love, are so tremendous,
We cast our our nets, we couldn't hold it all.
THe fruits of God's love, they leave me breathles,
we cast out our nets we couldn't hold it all.
Fishing in the DEEEP
You had the son of GOD in your hands,
and you let Barrabas out in the street.

Nero, I have a story to be told.
Ive heard you play the fiddle your city is going to burn.
Think of God in the depths of your despair.
you can still go to heaven, there's room for us all up there.

Send your soldiers through every Christian door, crucify all the martyrs just to be extra sure.

Take over all their lands and fill your house with gold.
The world pays its children in kind you'll reap just what you sow.


Is it easier for a blind man like Stevie Wonder to read souls?
read
Le Petit Prince,
"what is essential is invisible to the eye."
ENGELBROTT
Btw according to Engelische education, anyone at all can access the heart of God in the engelbrott. Heaven help the wetbacks a thousand miles from home.
Heaven help the tourist when the wetback jacks his phone
heaven help the nations when the bombs begin to fall. Heaven, help us all.
Heaven help the djs as they're dropping one more day.
Heaven help the venues when they don't clear enough cash to pay.
heaven help the kid on the corner who's hawking adderol
HHUA ETC Heaven help the mobster who gets made at 18 goes to jail at 21
Heaven help the narco with a warehouse full of machine guns
Heaven help the people with their backs against the wall
HHUA
Now I lay me down at Leo's house before I go to sleep
And I pray the Lord to watch over Carmine Street
Keep Eric Adams from selling the whole block to a high end shopping mall.
Engel, help us all.
EHUA
LOT RADIO USA

I hop off the plane at JFK and I'm back in my hood again
welcome to the land of bensonhurst WOO will I still fit in?
I get out of the pod here I am for the first time, look to my right and I see a girl power sign
This is all so crazy, everybody seems so hazy
TABOR ROAD
VAYA RUTILIO
ROMERO'S WRITINGS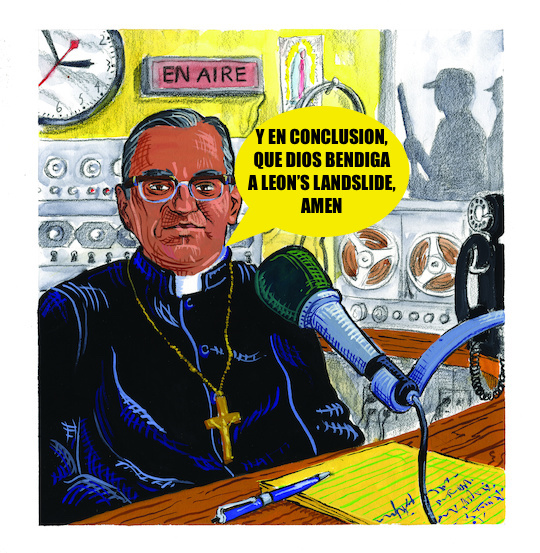 Dedicated to the martyr priest, Rutilio Grande and his friend Saint Oscar Romero
we love you and we will not forget.
He loved the poor
and thats for sure
and now he's dead and I wanna know what for